Having not written a blog for my own company for many months, possibly even years, the Rugby World Cup Opening Ceremony has inspired me to write again. It has bought back so many memories to a time when Bridge & Stitch was first established. One of our first clients was Rugby School who we produced 18th century replica rugby kit for, whilst the Olympics were held in the UK in 2012. As the Olympic Torch passed through Rugby, the school held a traditional rugby match to mark the birthplace of the sport. It was a huge honour to be apart of such a great event – one which I reminisce on years later. To see the blog for this click here
As a massive rugby fan, it is safe to say that last Friday evening, 18th September, I could be found in West Bridgford Rugby Club, with a pint in my hand eagerly anticipating the beginning of the World Cup and England's first match against Fiji. Sharing my night with 80+ avid rugby fans, what I didn't expect was for all of the room, and come to think of it, a good portion of the world, to be viewing the garments that Bridge & Stitch made for the Olympics, now making an appearance in the Rugby World Cup. To say I was shocked was an understatement! Working 12 hours a day running a business is not always easy and more often or not, the time passes you by without you taking a step back to congratulate yourself or appreciate what you have achieved. The Rugby World Cup ceremony forced me to be astonished with my own achievements and to feel truly humble and proud of myself, as well as my team in making Bridge & Stitch what it is today.
The Opening Ceremony Starts off with a short film featuring Prince Harry and Jonny Wilkinson amongst other rugby stars with a present Rugby School-boy chosen to play William Webb Ellis in a recreation of the moment in 1823 when he invented Rugby. During this scene, all the school boys can be seen wearing the iconic cream rugby shirts with an appliqued black skull and crossbones to the left chest. It is these tops and trousers, along with the green tops worn by the opposing team, that Bridge & Stitch made here in the UK. The fabric was knitted in Leicester with production at one of our factories in Nottingham. Bridge & Stitch focus only on Made in the UK products and works with our clients through the production process from concept to product.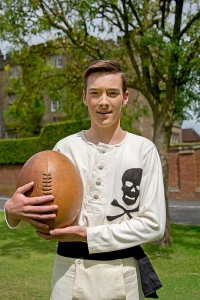 I hope you all had a chance to watch the ceremony though if not, here is the link and below are some stills from the whole show. All that is left to say is COME ON ENGLAND!