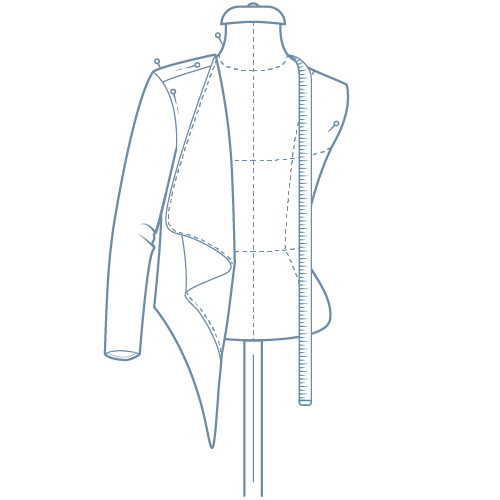 7. Fitting
The fitting of the sample will create a basis for the measurements of all your sizes in the collection. To expect first samples to be completely perfect in terms of fit is unrealistic as we usually expect at least one set of changes. Depending on the complexity of the garment, several could be needed to ensure that the fabric as well as the fit is exactly to the clients' requirements.
Bridge & Stitch can produce sample feedback cards which assess each sample and give the client feedback on all details of the garment from fit, quality of stitching, sizing, placement of prints and feasibility of product, along with any feedback and suggestions from the factory. We offer fit sessions in-house or the client can undertake these themselves and notify us of any changes required.
It is important that garments are fitted accurately and changes needed are carefully discussed and agreed to ensure that these changes are applied correctly to the next sample.

Bridge & Stitch's knowledge and experience has been invaluable throughout the entire production process. As a plus-size clothing designer the fit of my garments is vital to the success of my brand. From the first meeting, Bridge & Stitch really understood the importance of this and have ensured my specific fit and sizing requirements have been met. Superb service.
Ruth Hamer, Director, Ellipsus